Yes, I am another year older today.  No longer do I consider myself "mid-30s" but now I am "upper-30s".  Deena couldn't have written her numbers article at a better time….I vow not to define myself by my age.  Afterall, I do not feel 37 at all.  I feel more energetic and alive today than I did in my 20s!
My birthday prequel – I received my Origins package yesterday, so I now have my full Origins regimen in  hand.  So far I love all the products and how they make my skin look and feel and smell.  I will report back later.
Last night (henceforth called birthday eve) I kickstarted my celebration with my dance lady friends. Velvet martinis and homemade pretzel appetizers at Vintage 51 in Leesburg.  Yum!  This is our usual happy hour meet-up spot.  I think the bartenders actually recognize us now so I kind of feel like Norm from Cheers.  If you are under the age of 30, you may not know what the heck I'm talking about…bleh.  Anyway, they gave me this awesome birthday wine glass as a gift and check out the bottom:
That's a gift that keeps on giving!
This morning I started off my birthday with some awesome homemade cards by my kids, a gift certificate to a local boutique shop from the hubby, and pancakes for breakfast (made by moi) oh and my coffee of course!  Shortly after, I hit the gym (not physically).
This is the new super Gold's Gym that recently opened near us.  It's pretty humongous.  But I love it…never seems crowded, kid's club is never full, never a wait for a treadmill or a workout bench and it's BRAND spankin' new!
Today was a short training run day for me (thanks for that, Hal Higdon).  In a previous post I mentioned how I get a lot of recipes from watching TV shows while hoofing it on the treadmill. Here I am watching Rachel Ray make pasta while I am huffing and puffing and sweating like a banshee (by the way, don't look up that word like I did because this obviously was not the correct use of it). Something just isn't right about exercising while watching someone cook pasta.
However, yesterday on Rachel Ray she made these awesome looking tuna burgers which I plan to try out and feature for fish Friday.  My hubby will be stoked…tuna is his favorite fish and what manly man doesn't like a good burger?
After the gym and lunch, I went to the movies with three of the cutest dates ever: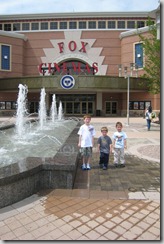 The tall one and Mr. McShortie are both mine, the other is my dear friend's son.  We had fun watching Rio.  Cute, funny movie.
Birthday 2011 ended with dinner with the family at the local Blue Ridge Grill.   The weather was so perfect that we ate outside (perfect for drowning out the sounds of loud kids).  Here's my birthday dinner date (handsome fella, huh?):
Notice the wine in hand?  And the hair clip on the table instead of in my hair so I could have nice flowing locks for the pictures.  And my other handsome monkeys:
And what birthday is not complete without dessert?  Why none, of course.
The four spoons are just for show.  I ate it all myself.  Happy birthday to me.